4 March 2008
"Websites, A Great Tool"
I really believe an author website is one of those great tools for authors. And where I know not all sites can be stunning and unique, they can be clean, detailed, and useful.
I asked my website designer if she would please alter the iframes out of my website. Essentially my pages scrolled within another page. Since I update my site regularly, it would be easier to get rid of the frames and work on the longer pages by adding details to make the site more interesting.
I worked all weekend tweaking my pages with fonts and organizing and I am still not done. *whew* Coding is detailed work, and I'm glad to have a background in graphic arts to help me with style, otherwise I would be paying for hours of web work every month. Hey, I'm low on the totem pole–I don't have that kind of money! And you know, I think that's how it is with a lot of new authors. They can't afford to pay a webdesigner to design and perform monthly updates so they choose to design a site themselves.
My advice is if you are going to be updating your own site, make it worth while. When I started coding my own sites, I didn't learn coding in graphic design school, I learned coding by a book as well as studying coding from my blog codes. I feel like a commercial–It's true! 😉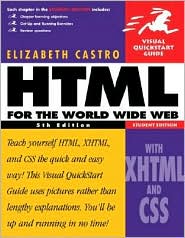 And the absolute best step-by-step book that has helped me understand how to add those little details to make my site a little more appealing is: HTML for the World Wide Web with XHTML and CSS: Visual QuickStart Guide
This book takes you step by step with every code there is (with pictures). It can seem overwhelming at times, but it has everything you need to make a website do all those cool things—change fonts, make pictures change into something else, add pretty colors, and just overall helps.
So yes, when you sell your book, save up and splurge to buy that template or website design from a designer, and research as many designers you can within your budget. But if you can't afford a monthly update, I recommend buying this book to help give your website those cool details.
I've been studying websites every since I started writing. I knew before I sold that I'm basically a homebody, and not a traveller. The Internet would be my biggest tool in getting my name out there. So what's great to have on an author website?
Bio: Short bio, interesting tidbits, photo
Book: Cover, blurb, excerpt, links to buy your books, reviews
Press kit: downloadable covers, big raves, bio, downloadable photo
Updating News: Monthly or quarterly updates on what's going with you or the books
Contests: It's hard to keep up contests, but readers love them.
Give: Give some helpful advice, or a monthly letter.
Easy Navigation: Please! It's so hard to find information hidden within other pages. Make it easy to find the good stuff.
These website essentials are just the beginning. I'm still trying to add all of things and more to my website. Your website builds with your career. As an author you can be creative with your website just like you are with your books.
I know readers expect a professional and clean site to browse, because I'm a reader too 🙂 :).
---