9 January 2014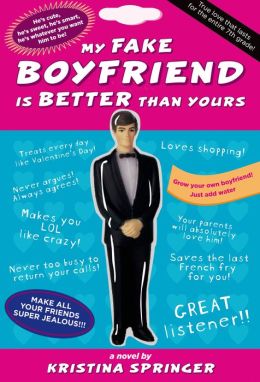 Seventh grade was supposed to be fun, but Tori is having major drama with her BFF, Sienna. Sienna changed a lot over the summer—on the first day of school she's tan, confident, and full of stories about her new dreamy boyfriend. Tori knows that she's totally making this guy up. So Tori invents her own fake boyfriend, who is better than Sienna's in every way. Things are going great—unless you count the whole lying-to-your-best-friend thing—until everyone insists Tori and Sienna bring their boyfriends to the back-to-school dance.
What is it about the art form of writing that you love the most?
Kristina: I love seeing where a story is going to go! The first draft for me is always very freeing. And I love surprising myself too. Often when I reread something I wrote I'm shocked that I actually wrote it.
Many writers describe themselves as "character" or "plot" writers. Which are you? And what do you find to be the hardest part of writing?
Kristina:I'm definitely plot driven. Once I get a story in my head I'm writing it as fast I can and then I go back and add in the quirks and details. I'd say the hardest part for me is revision. It always takes me awhile to see how something should be different or could be better.
Any advice for writers working toward publication?
Kristina: Don't get discouraged and don't quit. If you're persistent and always believe in yourself you'll eventually get there. You need to write as often as you can, know that there will be TONS of revision so don't expect to be perfect on the first draft, and also read a lot of books that are in your genre so that you know what's going on in your field.
Thanks again for chatting with me, Kristina, what's up next for you?
Kristina: I'm currently working on a fun middle grade book and don't want to jinx it by talking about it too much. It's my first middle grade since the hard cover release of MY FAKE BOYFRIEND IS BETTER THAN YOURS, which was a Scholastic bestseller, so I have a lot to live up to! My middle grade fans have been asking me for something new and I want to deliver.
KRISTINA SPRINGER holds a master's degree in writing from DePaul University. She is the author of The Espressologist, which Publishers Weekly called "a cheerful, breezy romance." She lives with her family outside Chicago, Illinois. Visit her website, www.KristinaSpringer.com
---