And we are off to chat about embarrassing moments and participating in student government…
Micol Ostow has put together a cool cyber launch for her latest novel, POPULAR VOTE. She's gathered YA authors dishing the good stuff as well as giveaways this week.
Here's what POPULAR VOTE is about…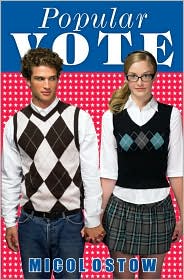 Erin Bright is pretty, polished, and popular–the perfect First Daughter. Her father is the mayor of their town, so photo shoots and Inauguration balls are a part of her life. In high school, Erin is politically involved as well; her handsome boyfriend has been student council president for the past two years. But THIS election season, things change. When Erin suddenly gets passionate about an environmental cause, she decides to run AGAINST her boyfriend…and to challenge what her dad stands for! Can Erin convince her friends, and herself, that she has what it takes to lead?
Sounds good, doesn't it??
I'm giving away a copy of Graffiti Girl for Micol's cyber party. Wish I had Invisible Touch ready and waiting but hopefully in a couple more weeks! Leave a comment for the other author cool giveaways @ http://micolz.livejournal.com.
Social Share